8 weeks old

For those regular readers of this blog, y'all know how much I adore my little fur baby Bear. I'm a firm believer in controlling the pet population. So as soon as he was old enough I planned to have him neutered. Well Monday was the big day. I made sure Sunday night he had no food or water after the set time. But being who I am, I worried all night long. No sleep for me that night. All I wanted to do was hug and cuddle him.
I dropped him off early the next morning at the vet's office. I was clearly not handling it too well. They assured me he would be fine and would call as soon as they were through, letting me know when to pick him up.
I have not had a full blown panic attack since bringing him home back in January. I was working myself into a frenzy as the day progressed. Lucky for me, I also had a therapy appointment. It is group therapy and I'm usually very vocal, but not this particular day. My therapist was just a wee bit--understatement--concerned. She pulled me to the side after group to see what was going on. I broke down and bawled like a baby. It's been ages since she had seen me completely lose it, which only heightened her concern. she calmed me down--she's a animal person too.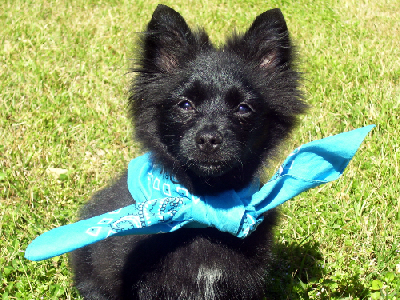 5 months old
Anyway....I got a call from the vet late in the afternoon informing me that I would have to leave my baby overnight. Oops...right off the deep end I went. They had told me I would be able to bring him home the same day. They said it was late before they did his surgery and he needed time to recover. I did my best to convince them to let me come and get him anyway. They did agree to let me bring his blankie down to him.

My therapist had been so worried about my state of mind she called my pdoc. I got a script for Ativan. Now I haven't needed any in months so told pdoc not to renew my script. Even with taking the Ativan along with my Seroquel and Trazadone, I still did not sleep Monday night. All I could do was pace the floor waiting until I could go get Bear Tuesday morning.

7 months old
I got him first thing Tuesday morning. We both ended up sleeping for a full 24 hrs straight. So now I'm back trying to catch up with everything I missed during the past few days.

The kicking thing about all of this...I suffered more than he did. He is just hunky-dory and I'm still trying to recover. Aaaaahhh....the inner workings of the human mind. Not everyday is sunshine and roses, but no where near the psychosis of yesteryear.